Share My Card®. was created to meet the needs of businesses of all shapes and sizes; to be able to network and promote their goods and services under restrictive conditions. 
Note: Share My Card® is a registered trademark in conjunction with Share-MyCard™.
Start ups, sole traders and small businesses strapped for cash or socially distanced from prospective clients or partners are faced with a dilemma; further diluting dwindling marketing budget, effectiveness and time resources into a multitude of social media channels and websites. Whatever their size all organisations gain most of their deal making, visibility and traction through personal networking and direct marketing. Informal opportunities arise, unplanned, where a 'pitch' can be made,  strategic alliances formed and contact information exchanged. This has traditionally been the preserve of 1 or 2 dimensional business cards and flyers despite the digital transformation age.
We Don't Always Have A Card Ready – Or – It's Not Practical To Hand One Over
Share My Card® harnesses both the older, established and the newer methods and channels – Business Cards (or flyers), Presentations + Social Media Shares, Email, Telephony, QR Coding + Mobile Devices…  in order to make sharing your contact details and product/service information simple, cost effective and dynamic.
Rather than put all your eggs into one proverbial basket your 'card' can be shared into any one of the baskets or channels you choose. Nearly every imaginable scenario is catered for :
In Person to Person – contactless share by displaying your QR Code.
With Existing Remote Contacts – click to share via email or WhatsApp
ShareMYCard Fobs or Digital Contactless Business Cards
To The Mass Market – click to post to all of the popular social media channels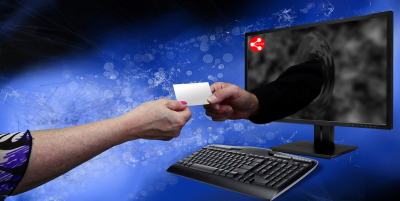 The Card That Keeps On Sharing
The Share My Card® service is free at the point of entry. Every new business member is entitled to a "Quick Card" – a fully self service contact card that they can create themselves by uploading an image that can be used as a logo or graphical representation and populating the text and contact fields as required. The Quick Card will generate a QR code for its online location. Business directory content can also be entered at the same time. Members have the ability to edit and change the card contents post submission and approval.
Don't worry if you make a mistake – just email us andd we'll get it fixed for you [email protected]
Paid Membership
Other card options attract fixed fees for setup and configuration based on the users request for customizations and feature set.  
Paid membership card holders can specify how they wish to be contacted e.g. Click to call my cell or office number, click to email or to visit a landing page etc.
The "Business Card" is the default product format but have the same core feature set and sharing capabilities as applied to other formats e.g. flyer, poster or multi-slide presentations.
Benefits
The service is hosted but has offline capabilities. The online card benefits from the same search engine exposure and SEO as a website but without the cost and time overhead – in fact the aim is to deliver the service with an 80% saving over the annual cost of a small business website.
Value added features and services are being gradually phased in and include :
A graphic design service to design logos and business cards
Scan or one click add to contacts on personal Contact Cards
An easy upload and edit capability
An uber cheap hosting plan for those requiring a domain name with email hosting
With this approach to getting online and networking a small business might even dispense with a website and managing multiple social media accounts altogether! (If they so choose).
Adding to the dynamism of the digital card , it is deployed as an installable app – a hybrid platform which behaves like a native mobile app but is also hosted as a website. This means that the user gets the benefit of the service while they are offline – no speed or network related problems and can also receive push notifications such as messages or prompts. The App is installed via on screen prompts or by A2HS (Add To Home Screen) for IOS (Apple) users.
As long as you're logged in – your cards are available to you in 'My Cards'.
Share My Card® transforms the one to one distribution method of the traditional 'card' into a one to many model with each recipient empowered to share and disseminate by their preferred method.
Share My Card® will benefit community groups as the card maintains its communication links to the owner but the action buttons or information can be changed in line with changed circumstances e.g. 
in a recent use case an event program required one touch links to an Instagram Stream broadcast to an international audience of varying technical abilities. This was to be followed a few hours later by a Zoom meeting. A few days later the card was updated to remove the video stream functions and was replaced with a Youtube button to enable the viewing of a recording of the event. All went smoothly with no training or introduction to the three technology platforms required. No minimum equipment requirements were suggested either.
For more information visit